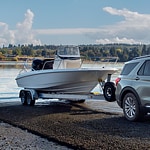 Year after year, the Ford Explorer leads the pack of three-row SUVs that crowd the market. The appeal is undeniable: the Explorer handles like a pro, rides smoothly, tows thousands, and performs expertly on any terrain. Speaking of performance, consider the following two features that caught our team's attention.
Smooth Sailing in High Winds
Driving in adverse weather and high winds can be a challenge. Crossing bridges or even just overtaking large trucks can push most SUVs perilously close to tipping. Luckily, the Sidewind Stabilization adjusts engine power, transmission, and drivetrain to keep wheels grounded and your trajectory firm despite the gustiest weather or gutsy road maneuvers.
The Legend of EcoBoost
The EcoBoost engine in the Explorer is a legend itself. This engine's seamless combination of direct fuel injection and turbocharging enable it to churn out upwards of 300 to 400 horsepower and nearly 415 lb-ft of torque. The result is a high towing/hauling capacity that never diminishes handling or efficiency.
Feel and see how Ford Explorer performs for yourself with a test drive at our Burlington, WI, Ford dealership today.