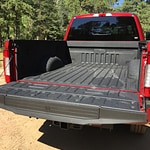 The new Super Duty from Ford is built for durability and rugged performance, which makes it a great choice for a work truck or daily driver. It has the towing power and payload capacity that outperforms other heavy-duty trucks in the same class.
To ensure that you get the most power out of your truck, Ford took the leeway of test driving the Super Duty for more than 20 million miles. This extensive testing worked out the kinks and allowed Ford to perfect the truck's performance on the road so that you get a safe and reliable ride each time.
It also has a sturdy and spacious pickup bed, which you can load thousands of pounds. It is ideal for towing pallets of building materials, loads of bricks, and other heavy items.
The newest Super Duty pickup manufactured by Ford has it all for your heavy-duty driving needs. Test drive the Super Duty today.