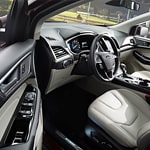 If you're in the market for a mid-size SUV and you want one that comes packed with cutting-edge design features, the popular Ford Edge just might be the vehicle that you've been looking for. You can get acquainted with the Edge at our showroom here in Burlington, WI, so come in prepared to take a test drive at your convenience.
The Edge's unique grille pattern makes a great first impression and sets it apart from other vehicles. A full complement of appealing color choices offers something for almost everyone, and a selection of wheel sizes and patterns are meant to suit every taste.
The passenger cabin is equally well-equipped with everything that makes traveling a pleasure. Comfortable seating for up to five, a spacious console, and an array of cup holders and storage bins can all be found inside the stylish Ford Edge.