Preproduction CGI image shown.
Experience the New 2021 Ford Bronco at Miller Ford
The 2021 Ford Bronco comes to Miller Ford with various class-leading features for any Burlington, WI tour. From extreme performance to high technologies, the new Bronco is the ideal model for outdoor lovers.
Performance and Capability
Nothing is overlooked when it comes to performance enhancement features on the new Bronco. Be it the wheels, suspension, or the hard body structure. Every spec is made for durability and extra powers. Going off-road is a blast in the new Bronco, thanks to its ability to handle steep inclines and sharp drops anytime you drive across rugged Rochester terrains. Its departure angle figures stand at 37.2 degrees while having an approach angle of 43.2 degrees.
When it comes to off-road drives, there must be some obstacles you come across along the paths. Interestingly, Ford Bronco is always ready for that. To prevent you from heating sharp rocks, huge bumps, and fallen branches, this machine is built to stand 11.6-inches higher from the ground. Notably, this is the best-in-class ground clearance. Bronco combines excellent water fording capability. With air intakes creatively mounted on the car, it also adds 33.5-inches allowing you to pass through shallow swamps.
An array of features also enhances durability. With all these, the toughness question is all confirmed. As noted from the ground clearance, the Bronco must be sitting on higher wheels design to enable its passage through challenging paths. For 2021, Ford offers new Beadlock-Capable Wheels with a diameter of 35-inches. Interestingly, you can air these wheels down to offer a smooth off-road adventure.
Rear and front axles are electronic, and they function to auto-lock the wheels for maximum traction and exclusive performance. The Bronco gets the best Stabilizer and Suspension among its rival models. With it comes Trail Stability Control that uses position-sensitive-damping shocks and the end stop valves for total controls when having off-road tours. The stabilizer bar comes standard on the 2021 Badlands model, offering an exclusive disconnect functionality.
Design
The Bronco offers excellent and amusing features, both in its interior and body design. For off-road Salem, WI drivers, you cannot shy away from liking this model. An open-air experience comes with a removable roof, either of the dual tops or a modular hardtop. There are also removable doors that can comfortably be stored in the car bags. Its interior gets a driver-centered cockpit, offering initiative gauges, comfy seats, and updated technologies for every connectivity you need.
Visit Miller Ford Today!
Make your way to Miller Ford to learn more about our dealership, new inventory, and finance center today!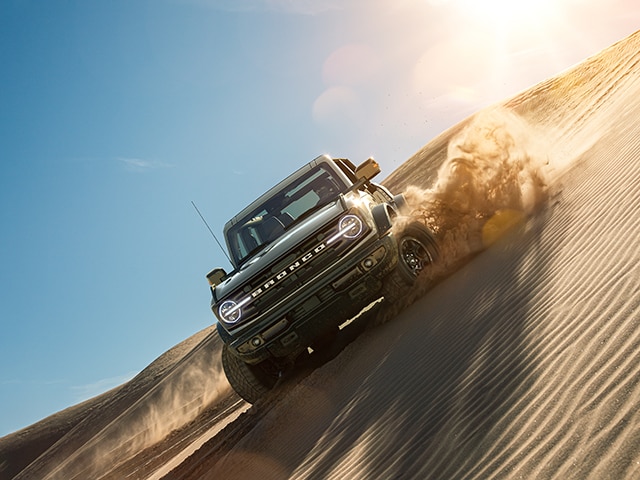 The 2021 Bronco
There's a whole world out there just waiting to be discovered. To find it you have to break rules, push boundaries and climb over the barriers in your way. With its relentless toughness and durability, the all-new Bronco was built to carry outdoor enthusiasts to wherever the wilderness calls. Available in two- or four-door models.
Preproduction CGI image shown. Available beginning spring 2021.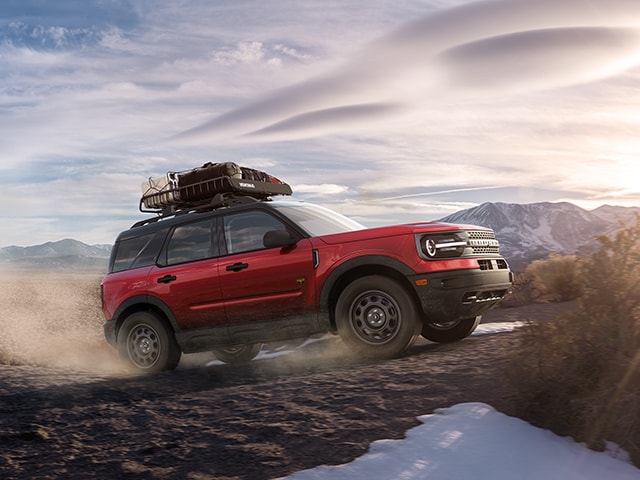 The 2021 Bronco Sport
Meet the latest in the family. The all-new Bronco Sport is your wilderness guide with four unique series engineered to match the way you experience the outdoors. Each, expertly equipped to get you out there - To the mountain ranges, the woodland trails, and the scenic shores. Your adventure begins in a Bronco Sport, and it never ends. Customize and order your Bronco Sport now, with your Ford Dealer.