Miller Motor Sales, Inc. was founded in 1939 by Melvin Miller as a Dodge - Chrysler dealership. The first location was on Mill St. in Burlington, WI.
In 1945, Melvin moved the dealership to 533 Bridge St. in Burlington. Operations continued at this location until 1959.
In 1959 the dealership was again moved to a lager location, this time to 688 Milwaukee Ave across from Echo Lake, next to Beaumont Field. Shortly after the move, Melvin's son Neal joined him in the business. The two operated from this location until 1981.
By 1981, Neal had purchased the business from Melvin. It was also in 1981 that Neal purchased the Ford-Mercury dealership in Burlington from Bill Shallock. The entire operation was then moved to the current location , 1196 Milwaukee Ave. in Burlington.
Several years later, in 1987, Neal's son Chris joined the business.  In 1987, Chris became the third generation of Miller's to run the dealership and is the President of the company today.  The operation has been expanded several times at the current location including a new Body Shop/Quick Lube/Detail Center added in 2005.  In addition, the Jeep franchise was purchased from Lynch Jeep in 2008.

We now offer a full line of Ford, Dodge, Jeep, Chrysler and Ram cars, trucks and SUV's along with a huge pre-owned vehicle inventory.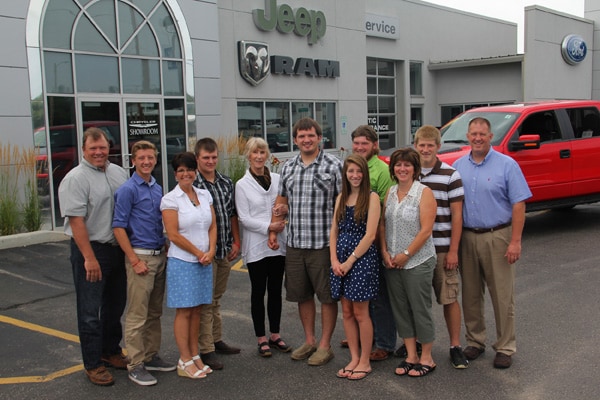 The Miller Family
75th Anniversary